This was our first-time giving pottery making a go and we had such a fantastic time! There are 2 techniques when it comes to pottery making:
Hand Building
Wheel Throwing
What's the difference between the 2 techniques, you may ask? 🤷🏻‍♀️
Hand building is one of the very first pottery techniques ever used. With hand-building clay, objects are created using only your hands, fingers, and other simple pottery tools (not a pottery wheel). The advantage of hand building is that possibilities of your creation are endless!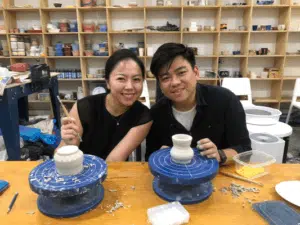 Wheel throwing is not exactly as easy as throwing clay at a wheel and hoping it sticks. In fact, this could leave you with quite the mess. Wheel throwing starts from the moment the clay touches the wheel to the moment the wheel stops spinning. It refers to the process of moving your fingers in an upward motion (also referred to as bending the clay) while the wheel is spinning. This is best suited for creating round shapes.
Our preference is for the wheel throwing as it more exciting seeing trying to mould the clay with the wheel spinning 👍
The instructors at Arudio are extremely friendly and patient. They start off by doing a demo of the whole process, from softening your clay to shaping it. The attention given to us by the instructors definitely felt like a private 1-1 class.
In the class, you can make any 2 objects per person. We chose to make a bowl and cup each. Sharing our masterpieces below.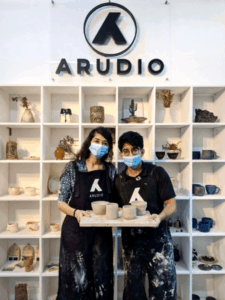 After you dry your pieces with a heat gun, instructors will keep them back to glaze them. Post glazing, they look especially beautiful, as per below. We recommend the most popular glazing option of blue & gold.
Do give this date experience a go, at an affordable price of $55/ pax. Book via Sparks today! ✨
Tips: Wear comfy clothes as things may get a tad bit messy!